Easy-to-use display
Material:Alloy Steel
Extremely portable
Powerful motor
Sturdy build
Bluetooth 3.0 Audio Speaker
3.25 Horsepower motor
2.5-inch Tapered rollers
7.5-Inch LCD screen
Weight: 240 Pounds
Multi-functional Console Panel
Speed range of 0.6-11.0mph
Easy Assembling
Free Smart App
Powerful Motor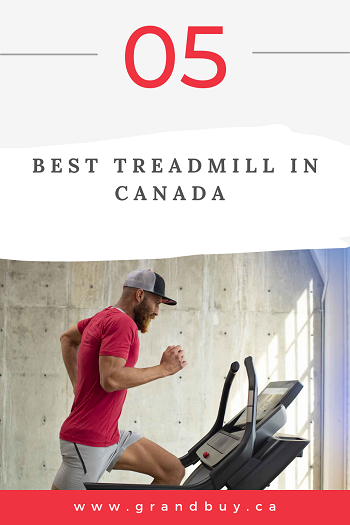 Regular people don't need workout tools that are too complicated and too high-end. Because let us get this straight without offending anyone; not everyone has to be a fitness freak.
A few minutes of walks is sometimes difficult for the laymen to manage.
So, investing in a high-end workout tool becomes out of the question.
However, the workout tools that the said regular people perhaps prefer the most are the cheap and cheerful ones. Such exercise tools will be easy to use and will not be hard on their wallet too.
So, when we had to talk about the treadmill, we started our pursuit by searching for the Best Treadmill in Canada, targeting that specific group of people.
Our prime motto was to ensure quality and basics, and that should be your criteria too when buying one at this price range.
So, sweat at home, strengthen your cardiovascular system, and improve your agility with any of these treadmills we discussed below. They are great for your body, mind, and pocket and always keep you in a win-win situation.
---
The Best Treadmill In Canada Deals This Week*
*Deals are selected by our commerce team
Last Amazon price update was: March 30, 2023 11:13 am
Review of the Best Treadmill In Canada
1. Sunny Health & Fitness SF-T1407M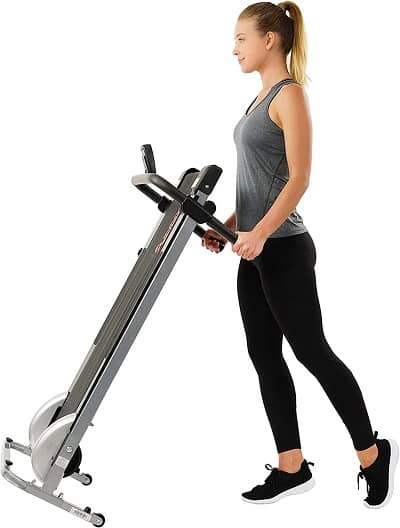 This simple manual walking treadmill offers you great cardio benefits. Walking and running on its non-slip running surface increases your blood circulation, and bone density works to strengthen your muscles, improves balance and coordination, and brightens your mood.
The lightweight treadmill is easily movable with its transportation wheels but super compact, thus requiring a small space at your home. Though compact and light, it handles 220lbs weight easily. Try fast running, light jogging, or power walking. The treadmill withstands all.
It is a manual treadmill and thus requires no plugging in and electricity. However, its dual flywheels don't let the apparatus compromise its effectiveness in strengthening your cardiovascular system. Due to the flywheels, you can run fast within your ability, and the treadmill will keep up to your intensity by throwing challenges toward you with its endless resistance.
The flywheels have sweat guard protection covers. Thus remains clean and as sharp as a new tool due to no sweat and debris. Moreover, you can wipe clean the sweat and debris from its handrails with a sodden cloth. Basically, it's a tool easy to maintain. Hence will last you longer.
Not just the running deck; even the handrails are non-slip. They are covered with slip-resistant high-density rubber materials. Continue checking your speed, time distance, and burned calories by setting up its scan mode on the digital monitor. It will boost your confidence and work as a motivator.
Features At A Glance
Manual treadmill, a power saver

Compact and lightweight

Dual flywheels

High-density, slip-resistant rubber handrails

Non-slip running deck with sweat guard protection covers

LCD monitor
2. Home Treadmills Two-Wheeled Mechanical Treadmill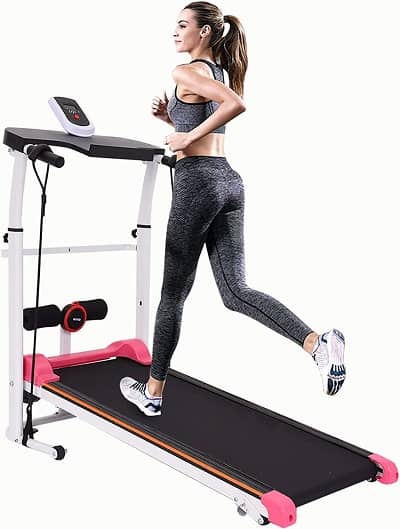 The black mechanical treadmill with a dash of pink here and there easily attracts your eyes due to its cute appearance, but it's a treadmill worth spending on too, due to its quality and features. Mechanical, no use of electricity, therefore environment-friendly and energy saving.
It is a safe, low-noise workout tool. The flywheels have protective covers. The base is a suction cup base; thus doesn't budge even if you run with your full might, and the handlebars are well-padded and very comfortable to hold while you walk and run.
The double flywheels solely depend on the inertia of your footsteps. You just need to run hard and fast with full force to make the treadmill work to its full power. Its running deck is very comfortable to run on, and you can enjoy a smooth run on the thick material without feeling like forwarding empty steps.
Fold it in half and keep it at any corner of your house. It is easily portable and thus can be stored and again placed for working out. Yet, it manages 150kg weight, and the user height is smoothly adjustable.
The monitor displays time, speed, distance, and calories, constantly telling you about your progression, and the icing on the cake is its built-in Mp3 speaker, which makes it stand out among the rest of the similar treadmills.
Features At A Glance
A power saver, eco-friendly treadmill

Double flywheels work with inertia

A safe and durable running deck made of thick materials

Monitor to track time, speed, distance, calories

Built-in Mp3 speaker

Foldable, easy to move, and compact
3. Fitness Reality TR1000 Manual Treadmill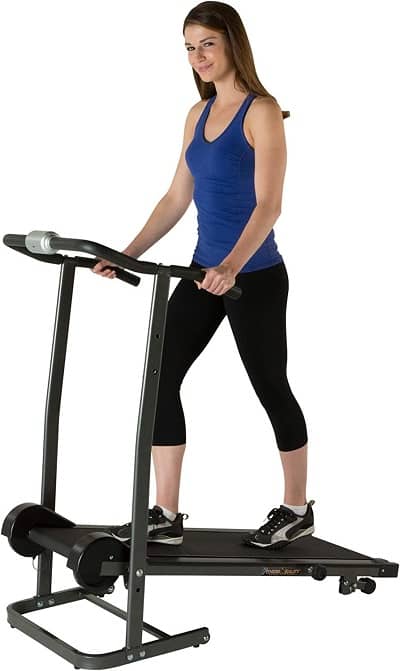 Fitness Reality TR1000 Manual Treadmill is a treadmill with two incline levels and twin flywheels. Angle the running deck to either 6 degrees or 10 degrees, depending on your will to perform on that particular day.
It's a durable, compact treadmill made of sturdy, long-lasting materials. The steel frame has a powder-coated finish all over it. Hence sweating due to excessive long-term training will hardly affect the treadmill
It manages a weight capacity of 230lbs and has an LCD display computer that monitors and shows the result of your activity, then and there, by showing the elapsed time, distance walked, calories burned, and speed
The twin flywheels make the treadmill super smooth and very quiet, thanks to its sturdy cast-iron build, making it apt for home use. It's built sturdy and has double the power of the flywheel. Hence the moment you start walking or running on it, the treadmill begins working on your cardiovascular system and agility with full force.
This foldable treadmill is easy on your body and convenient for small spaces in your home too. The long handles are well-padded, and the running deck is spacious with wide side rails making it safer.
Features At A Glance
Steel frame with powder-coated finish

Two incline levels, six and ten degrees

Twin flywheels

Foldable and compact

LCD computer

Long handles and wide side rails
4. Phoenix 98510 Easy-Up Manual Treadmill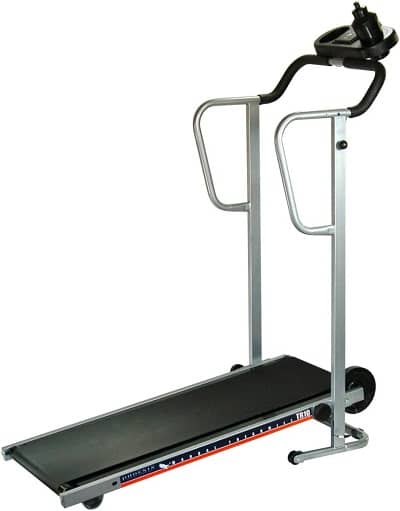 Enjoy a quiet, smooth walking and running experience with the Phoenix 98510 manual treadmill. The smoothness and silence come due to its heavy-duty weighted flywheel. Walk or jog and make the treadmill work because manual means no power or electricity is required.
It is self-powered and works with the help of its users only. The faster you walk, the harder the treadmill turns to manage due to the force you apply with each footstep.
The sturdy running belt is spacious, and the durable treadmill handles the intense running of a user weighing 250lbs easily. Its monitor, as usual, tracks the burned calories, time, distance, and speed to propel you to continue working out.
It is super easy to store as it features a spring-loaded pull pin that securely locks the apparatus in an upright position. Easy to lock and release hence easy to store and set up once again for the daily workouts. No space is required to keep a bulky treadmill on display.
Always keep yourself hydrated on this treadmill, as the water bottle holder lets you do that. Fill the bottle, keep it within your reach and continue sipping water from time to time while working on your cardiovascular system hard.
Features At A Glance
Heavy-duty weighted flywheel

Self-powered, smooth, and quiet

Sturdy and spacious running belt

250lbs weight capacity

Water bottle holder

Easy folding, locking and releasing with the spring-loaded pull pin
5. Agony 4-In-1 Mechanical Treadmill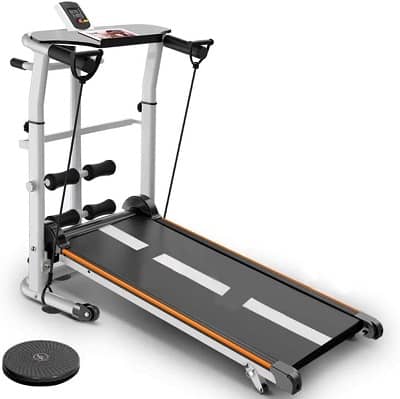 This one is a manual treadmill that is worth every penny you spent on it. It is a mechanical treadmill with a high-weight capacity of 440lbs and includes many extra workout tools to make your workout more effective. You get a tablet stand, a belt, and a T-wist waist plate along with this sturdy treadmill.
No matter how fast you run, the suction cups beneath hold the treadmill in one place, firm, and standstill. It will not move forward or backward, maintaining a safe workout situation. It requires no power to switch on and run and is super easy to install and set up. When not in use, just fold it up and move it to a corner to save space.
The treadmill has padded handlebars and foot rollers as well. They are comfortable on your grips and feet. Place your feet on the rollers, sit on the running belt and try sit-ups. It is specifically made for that, and the creatively designed middle massage wheel and high-quality foam just prove that.
Use this independent T-wisting machine for increasing the lower back muscles, tightening, strengthening and beautifying it along with the abdominal lines and waist. It works to relax your feet' soles too.
It allows not just height adjustments but slope adjustments too. You can change the heights to five files and the slopes to three, making it vastly usable and intensely challenging for its varied users.
Features At A Glance
440lbs weight capacity

Thickened and foamed sits-up with mid-massage wheel

Padded handlebars and foot rollers

Independent T-wisting machine

Allows five files height and three files slope adjustment

LED monitor
FAQs About Treadmill
Conclusion 
Each one of the above Best Treadmills in Canada we talked about is reliable and quite a buy. The features give it away just by reading them at a glance, and when it comes to the quality, a few uses will give even that away.
We preferred the manual, self-powered ones, as you noticed. These are the best and safer compared to the computerized or electronic ones available within this price range.
The good part is you will not spend a ton on gym fees, and neither will you panic thinking you will have to slot a specific time for the workout.
With such an easy-to-use, power saver workout tool, working out becomes fun, that too anytime at home. Then, the regret of not using all the intricate features of an expensive workout tool can be taxing. Be free of those feelings by buying one which you can use to its full potential, and these ones are among those very ones.