Excellent cardio benefits
Non slip running surfce
Compact & ergonomic
Digital monitor
Non-electric
Digital monitor displays
Unique stabilizer ring
Body resistance
Adjustable height
Sturdy Design
Deck length: 76 Centimeters
Safe non-slip bump texture
Small footprint
Easy to move
LED display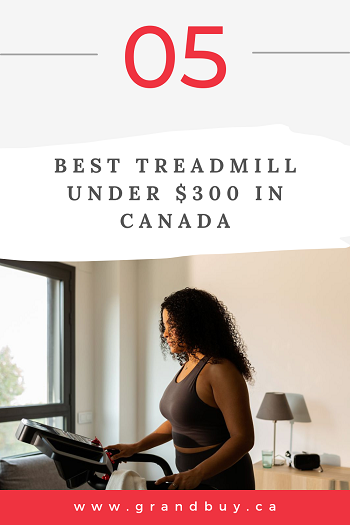 Even a year ago, joining a gym was still trendy for fitness-conscious people who are extremely serious about maintaining a healthy diet and pleasant physique.
However, the time took a massive turn, and people had to concede the effectiveness and value of an at-home gym.
The situation the world and its inhabitants are in right now has given people time to invest in themselves.
So, even busy bees leading a sedentary lifestyle have woken up from their deep slumber and decided to stay active, both for their own good and somewhat passing some monotonous time.
We really need to understand how effective the simplest of exercises are.
A 45 minutes walk or a half-hour jogging, such activities leave a significant impact on our entire body.
So, when you decide to stay at home to follow the rules, a treadmill in your at-home gym can keep you active in the simplest way possible.
Now, how much do you need to spend on a treadmill that perfectly suits your home gym? We say you can be as high-end or as thrifty as you want to. But the Best Treadmill Under $300 in Canada will be the ideal option, according to us.
Hence, we are serving you five incredible options. To know more about these affordable, inexpensive, good-quality treadmills, keep on reading.
---
The Best Treadmill Under $300 Deals This Week*
*Deals are selected by our commerce team
Last Amazon price update was: March 30, 2023 10:46 am
---
Review of the Best Treadmill Under $300 in Canada
1. SHAREWIN 2 in 1 Under Desk Treadmill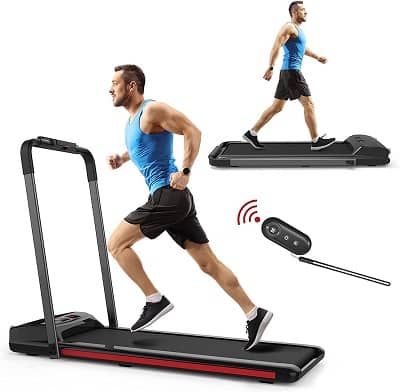 This one is a foldable corded electric treadmill constructed from sturdy steel. The alloy steel frame handles vigorous running effortlessly. Moreover, it is a walking pad as well as a treadmill designed for 2-in-1 use.
You run upstairs on it at full speed, using the 2.25HP motor at its full potential, and right beneath on the ground floor or in the adjacent rooms, people can continue their sound sleep, thanks to its silent motor. The sound of the motor is only 40-60 decibels, almost inaudible. That means you can work out anytime you like to, and you are not under any time restriction.
Its 2-in-1 dexterity depends on its armrest positioning. When its armrest is folded, lowered, and not in use, you are basically benefiting from the walking pad mode, walking your way about 0.5-4MPH/1-6.4KM/H. The lowering of the handlebar also allows convenient storage of the treadmill.
And when the armrest is raised up and high, you are now using a treadmill, and it lets you run on the five-layer non-slip shock-absorbing running belt at a speed of 0.5-7.5MPH/1-12KM/H.
The treadmill ensures utmost safety to its users from accidental slips, not just with its anti-skid wide running belt, but with the safety button on the armrest too, which you can push anytime to stop the treadmill.
Features At A Glance
A walking pad and a treadmill

Alloy steel frame and 2.25HP silent motor

Five-layer non-slip shock-absorbing 15.8" wide running belt

220lbs weight capacity

Foldable, easy to store

Emergency safety button on the armrest
2. Fitness Reality TR3000 Maximum Weight Treadmill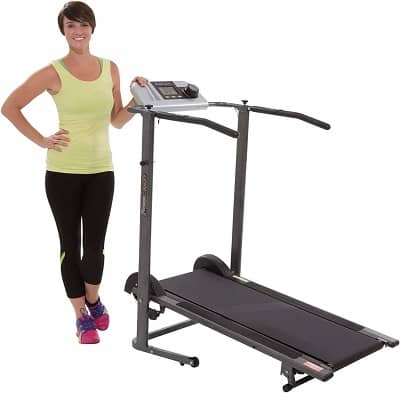 Although simple walking and running work wonders in keeping us active, still after a few uses of a treadmill, things can get monotonous.
With this Fitness Reality treadmill, things will not be as dull as a treadmill as flat as a deck. This treadmill under 300 has three position inclines of 8, 10, and 13 degrees. So when you need to throw a little challenge to your body, use the incline accordingly.
Increase the challenge a couple of notches more with the eight levels of magnetic tension too. In even days keep it simple, and the moment you notice your body is getting used to the resistance, increase it and shake it up a little to make the workout much more impactful.
It is a manual treadmill with a spacious 16" W x45" L running belt and 325 lbs weight capacity. The alloy steel tackles your body weight and vigorous running with optimum safety.
Expect a smoother and quieter workout as this one doesn't have a single flywheel; instead flaunts a 6" diameter twin precision-balanced flywheels. Two is always greater than one, and the performance of this treadmill proves just that.
Its handlebars are purposefully made to be extra long compared to similar treadmills to ensure double safety from losing balance while you run at high speed, high resistance, and high incline. These have heart pulse pads on them too. The LCD shows your accurate heart rates as well as workout progress and keeps you motivated during each second of your exercise routine.
Features At A Glance
Sturdy alloy steel frame

16" W x45" L running belt

6" diameter twin flywheels

325 pounds weight capacity

3 position inclines

8 levels of magnetic tension
3. ZELUS Folding Treadmill for Home Gym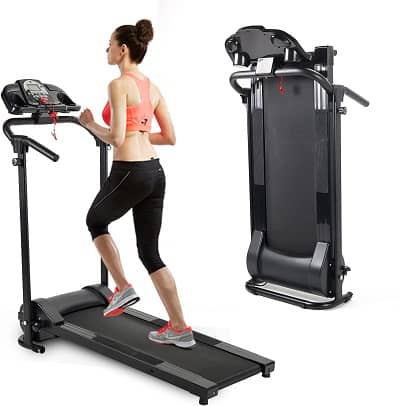 ZELUS Folding Treadmill has to be the perfect addition to your home gym. It is a foldable electric treadmill that operates with a quiet and smooth 750W motor. The weight capacity is moderate as well as it supports 220lbs easily.
You are running on an anti-skid running belt, capacious enough to ensure optimum safety. The five different layers highly complement the treadmill's spacious and comfortable running belt. Its 39.3"x13.4" running belt has a non-skid layer as the bottom sheet and has both noise insulation and a noise absorption layer to ensure quiet use.
In between the noise control layers, you have the shock-absorbing layer. The surface right beneath your feet is the compression layer. You can adjust the speed of your treadmill from 0.6 mph to 6 mph, depending on your energy on specific days. You can also make your workout fun with the 12 workout programs it has. These programs test both your pace and tolerance level.
Keep track of your progress and health with the help of the LED monitor. Continue running while listening to your favorite music high and clear with its dual speakers.
Not only is the running surface non-skid, but you also have anti-skid strips on the rails of both sides. Other than that, you have a safety key connector, speed control button, and emergency stop button located all within reach of your fingertips to ensure safety during your every intense movement.
Features At A Glance
Quiet 750W motor

3"x13.4" anti-skid running surface

220lbs load capacity

6 mph to 6 mph speed range

12 workout programs

LED monitor and dual speakers
4. Murtisol Folding Treadmill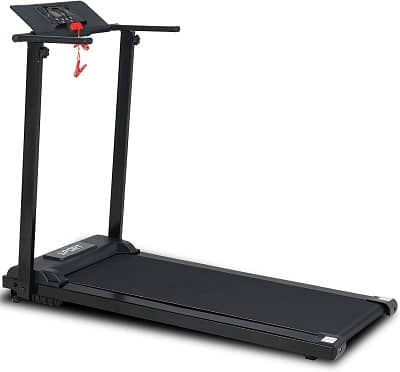 Murtisol Folding Treadmill is your ideal home gym workout machine that operates with the very impactful UIET 2.0HP motor. It is made of high-quality steel that provides safety, reliability, and durability while working on your physique.
Expect ultra-quiet, comfortable running on its 14"x40" large anti-slip running belt, thanks to its anti-static lawn texture belt. The running belt is made to absorb all the shocks and impacts from vigorous running and shields your knees and ankles.
Touch a button and control the speed range of 0.5-5.0MPH. Go slow or super-fast according to your will and energy to run. And when you see a potentially adverse situation, use the built-in safety key and emergency shut-off button. The machine will stop at once and protect you from severe injuries.
Along with a different speed range, you can spice up your running routine with the 12 built-in programs. The various programs guide you toward achieving different fitness goals. Toning muscles, increasing endurance, improving cardiovascular fitness, and burning calories, this treadmill does it all by keeping a precise track of your heart rate and fitness progress through the LCD monitor.
Features At A Glance
High-quality steel construction

UIET 2.0HP motor

Silent, strong, and smooth driving power

5-5.0MPH adjustable speed

Large anti-slip anti-static lawn texture belt

LCD monitor with MP3 player
5. ReallyGO Running Treadmill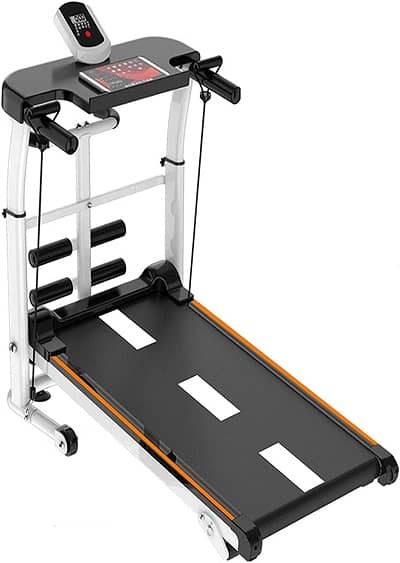 This one is a treadmill that is a dream option for exercisers who expect more than basics from a treadmill under 300. It is a 4-in-1 multifunctional folding walking machine and has a high weight capacity of 440lbs.
With all the additional tools and features it boasts, it does not restrict its use to just running or walking, and you can do quite a few different types of exercises with it. It is undoubtedly a bulky machine with additional tools, yet it folds pretty easily and only takes up half the space of your home gym area.
You get an independent T-wisting machine, draw ropes, and foot rollers and completely sit or lie on the running surface and try different exercises to target various body parts. The wide running surface conveniently supports and fits your body on it no matter how you are positioning yourself.
The stable and robust suction cups beneath the treadmill keep it in one place no matter how hard you are going on your body while using this multifunctional treadmill. Utmost safety features you were searching for, there you have it.
Features At A Glance
Foldable, 4-in-1 multifunctional walking machine

8×14.1 inches running surface

440lbs weight capacity

Stable and strong suction cups for safe exercising

Come with additional workout tools like a T-wisting machine and draw ropes

Thick, padded sits-up and handlebars and a LED monitor
Frequently Asked Questions
Conclusion 
From the Best Treadmill Under 300 in Canada, one can expect some of the most basic yet crucial features. The features that make a treadmill perfect for home use and convenient for home users.
The result must show through your body transformation and increasing endurance level, and it must not have too many complicated options that the body just gives up after two to three sessions.
As it's the affordability you are targeting, the construction might get compromised. The one way you can ensure sturdiness blindly is to target treadmills from well-known brands, and our five picks pretty much say it all about our relying tendency on the brand.
Top brands will make sure the quality of their treadmill is pretty high and can tackle your rigorous daily running on the treadmill even if it costs you only 300 and under.
So, get your treadmill, the one you liked from the five, flaunt it in your home gym, and make full use of it with daily exercise.